A thief broke the window from our new front doors and stole money from the cash register and a locked cabinet. This is really stealing from the community. :-(
Notice
New Hours for the ReUse Store
Wednesday - Saturday
from Noon to 5 PM
November 2nd & 3rd, Silver Valley Arts & Craft Fair, Silver Hills School, Osburn

Other Fund-Raising
Fuller Center for Housing, Inc.


Carson McCarver laughs as his mom, Lynsey, pushes his stroller through a puddle during our
Walk-A-Thon. Grandparents, Mike & Deanne Fitzgerald walk behind.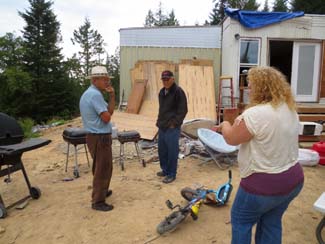 Verne & Carl Blalack discuss with Christina Mace how the trusses could be lifted onto the Mace home. The area along the sides is not wide enough for Carl to use his boom truck on this Greater Blessing project.


Need shelving--come see us? Horace Stevenson donated 2 pickup loads and these 2 trailer loads.


This is part of the donations brought to the ReUse Store in Terry Sverdstenís pickup & horse trailer from the American Lutheran Churchís sale.